Garment Options and Prescriptions - Thigh High, Waist High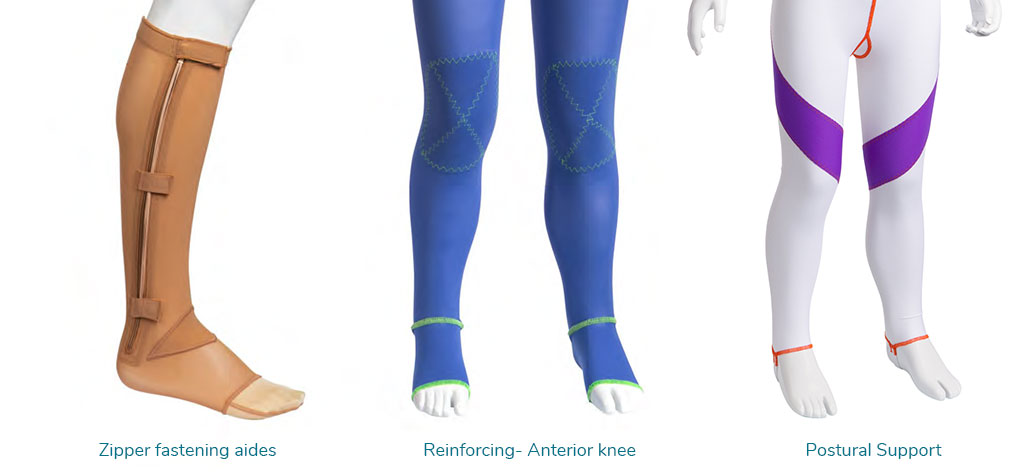 Our last article focused on different modifications available within the foot, so for this article we will continue to head up the leg and look at options available through the calf, knee and thigh.
Zipper fastening aides
These fantastic little tabs that run along the length of the zipper are designed to aide the patient or carer when donning a garment. Perfect for patients who may have poor hand strength or generally reduced function, such as the elderly, by closing the tabs in stages, the patient is able to manage a full length zipper without having to apply the same level of force that would be required to close the entire zip in one go.
Reinforcing- Anterior knee
Reinforcing through the anterior knee should be applied to minimise wear and tear of the garment for those who are particularly hard wear-ing through this area. When ordered, you will receive a garment that has a double layer of powernet through the wider knee area - great for those who have a job or hobby where a lot of kneeling or crawling is involved, or for those toddlers who have just started moving!
Postural support
Postural support can be added to the leg in order to promote positive positioning. An example of this is when the material of a garment applies directional force which allows the patient to correctly position their legs in an externally rotated position, rather then their usual resting position of Internally rotated. This can significant improve the patients gait and posture, and is a valuable tool towards supporting a rehabilitation program. Postural support is customisable to meet the unique needs of your patient.
View a printable quick reference resource of our Garment Selections and Modifications.