Style modifications for Knee High, Anklet, Toe Piece
Anterior ankle
It is standard for the anterior ankle to have a small linear seam, to respect the angle created between the lower limb and foot. An alternative for this seam is an Anterior Ankle Insert, which can be chosen to move seaming off the anterior ankle crease across a wider area on the anterior ankle. This would be useful if your patient has a wound or sensitive scar across the anterior ankle. The insert comes in a standard size, however this can be increased or decreased in size depending on the patient's needs.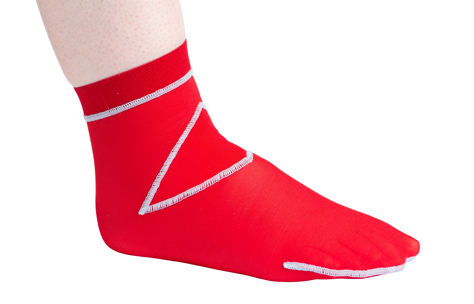 Toes
When a closed toe garment is ordered, a self-enclosed toe is standard, ie the powernet material continues over the toes. As long as the patient has no distal scarring, a Soft Enclosed Toe (which uses soft lycra) may improve comfort, and reduce the risk of ingrown toe nails.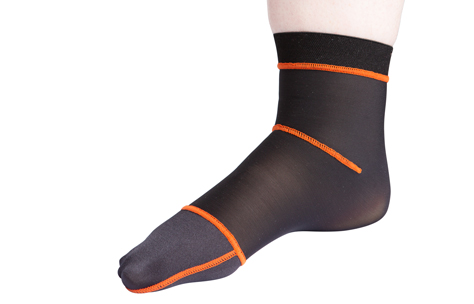 Sole
There are different sole options depending on the functional needs of the patient. As a standard, Jobskin socks are fabricated with a single seam that runs down the back of the calf and through the centre (plantar surface) of the foot to the toes. Some alternatives to this, for patients who are hard wearing on their socks, are to add suede reinforcing or to request a seamless sole which then puts the seam around the outside of the sole. Powernet reinforcing on the sole is also available. A patient with sensitive soles may also benefit from a seamless sole.